Manufactured Products
Transfer Factor Oral Solution
INTRODUCTION
Transfer Factor Oral Solution is a dual immune regulator manufactured through the extraction from healthy and fresh PS with the use of modern biochemistry techniques. Various pharmacological experiments and clinical observation indicate that transfer factor oral solution is mainly absorbed through the upper alimentary canal. It is mainly distributed in the blood and lasts for more than 24 hours. It allows sufficient time to interact incessantly with the receptor T-lymphocyte, and increase the level of lymph cell and Helper T cell in the blood. This achieves its function as a transmitter of antigen dependent cellular immunity.
ACTIVE INGREDIENT
Peptides, nucleotide and amino acid
INDICATIONS
Immune system regulator, can regulate and increase the function of the cellular immune system. For the treatment of diseases caused by virus infection and weak cellular immune system.

INTRODUCTION
Wisk is rich in Co (possessing 4.5% of molecular weight of B12) can prevent the wound deterioration and take part in the regeneration of new tissues and recovering of hair follicles. The effective rate of Wisk is up to 100% for the injuries of skin and mucous without any side-effects or adverse reactions but with safe and convenient for the use. It can be extensively used for injuries in or out of hospitals with satisfactory cure effects.
ACTIVE INGREDIENT
Vitamin B12 mixture
INDICATIONS
II-III degree of radio-injury of skin; normal common burn; trauma and post operation wound healing; actinic dermatitis; various infectious ulcers; oral ulcer.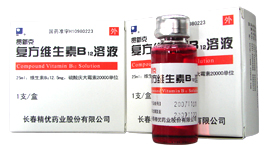 INTRODUCTION
ZhouBang is a thromboxane synthetase inhibitor and acts as an anti-coagulant. It is used to prevent the coagulation of platelets and facilitate relaxation of blood vessels.
ACTIVE INGREDIENT
Sodium ozagrel
INDICATIONS
Prevention of cerebral occlusive ischemica in patients with thrombotic risk.